Enjoy Trophy Whitetail Deer Hunting at
Blackjack Hunting and Ranching Ranch
Why did we choose to open our hunting ranch in South Texas?
Simply put, this region is the perfect habitat for whitetail deer — and thus the perfect retreat for trophy deer hunting.
One visit to Blackjack Hunting and Ranching, and you'll see what separates us from other South Texas whitetail hunting operations. We carefully pick what we stock our ranch with, ensuring that it mixes with the natural game aldready indigenous to the golden triangle.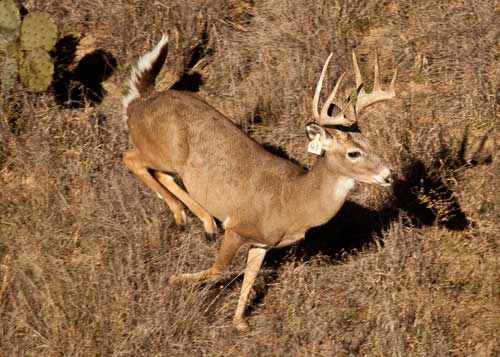 Whitetail Deer Hunting at Its Finest
That shudder when you see the flutter of movement beyond the deer stand; the nervous energy as you track your prey; that satisfaction when you watch your shot sink into its mark. Whether it's your first time deer hunting or your hundredth, we guarantee a fulfilling hunt when you visit Blackjack Hunting and Ranching.
If you're looking to capture a whitetail deer, black buck antelope, or an axis trophy deer, we'll deliver the deer hunting trip you're craving.
Ensuring a Quality Herd
Other whitetail deer hunting operations can't match the quality of our herd. We're able to maintain an enviable herd because of our rigorous standards and deer hunting management practices. We maintain an ideal buck to doe ratio and prevent the over-harvesting of our top bucks so that the most quality genes are spread throughout the herd.
The result? A stunning herd featuring many admirable trophy whitetail bucks. Deer hunting enthusiasts are continually impressed by the specimens available at Blackjack Hunting and Ranching. Novice and long-time hunters alike will be pleased with the spoils of their deer hunting trip at our Texas ranch.